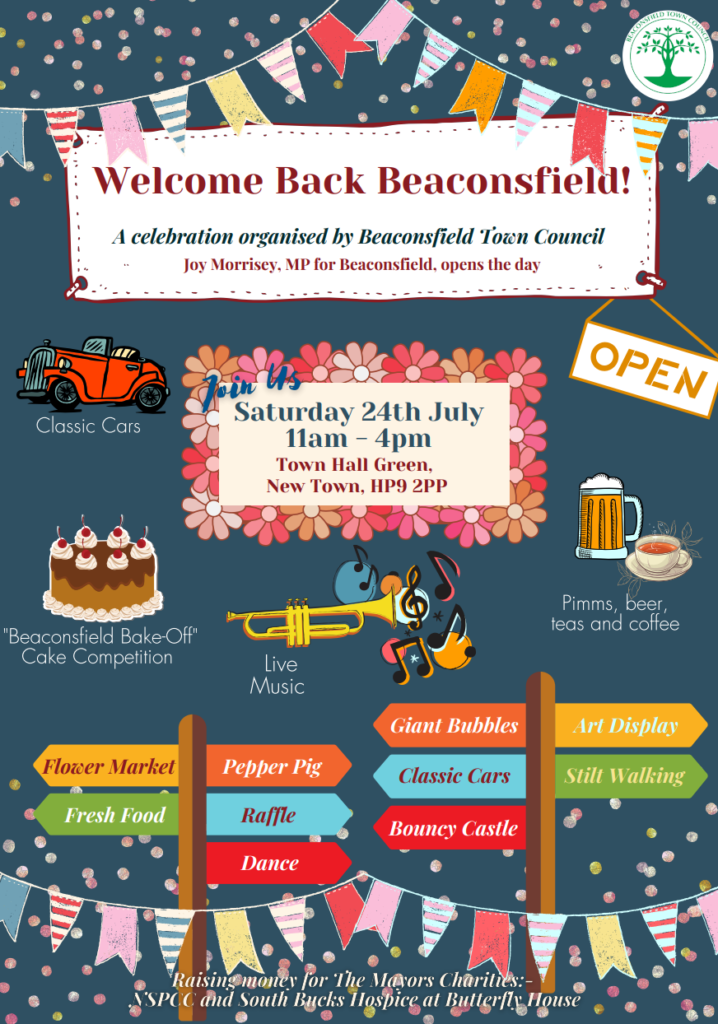 WELCOME BACK BEACONSFIELD
Saturday 24th July 2021
11am – 4pm
Town Hall Green 
Beaconsfield New Town
HP9 2PP
Beaconsfield Town Council are pleased to announce a family fun day to be held to Welcome Back Beaconsfield. As lockdown restrictions are beginning to be lifted, the Council hope that many residents will come and join the event on the Town Hall Green where there will be live music, good food, classic cars, the 'Beaconsfield Bake-Off' cake competition, bouncy castle, competitions, raffles and a lot lot more! Entry to the event is free.
Joy Morrissey, MP for Beaconsfield, will open the proceedings at 11am.
"We welcome all residents from across the Town to join us during the day to participate in the festivities" said Cllr Alex Dunlop, Chair of the organising committee. "Entry to the event is free and we will be raising money at the stalls on the day for the Mayor's Charities".
"It has been a long time since we've been able to organise a community event like this, so I'd encourage as many residents as possible to drop by on Saturday" said Alastair Pike, Mayor of Beaconsfield. "As Mayor of Beaconsfield for 2021/22, I am delighted to announce that my chosen charities will be the NSPCC and South Bucks Hospice at Butterfly House. I'd like to thank the organising committee for proposing that money raised on the day will be equally split between these two important charities".
Cllr Andrea Essery is organising the 'Beaconsfield Bake-Off' cake competition and she can be emailed for all the entry details at andrea.essery@beaconsfieldtowncouncil.gov.uk or via the Town Hall office. "After judging is complete, all cakes will be sold either as a whole or by the slice" she said.
For more information contact:
Cllr Alex Dunlop at alex.dunlop@beaconsfieldtowncouncil.gov.uk or on 07768 847900 
Town Clerk, Beaconsfield Town Hall at clerk@beaconsfieldtowncouncil.gov.uk or on 01494 675173 (Mon-Fri 9am – 1.30pm)