Latest news on the Corona Virus & actions to take
Please see below latest advice issued from Public Health England, the risk level of contracting coronavirus in the UK has been set as moderate, the risk to individuals currently remains low.
---
What is the Corona Virus?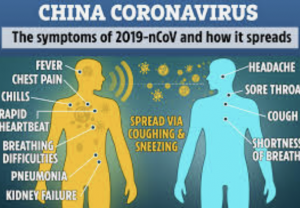 The 2019 Novel Corona virus has been spreading since it was first reported in December 2019.
Current evidence is that most cases appear to be mild; symptoms include fever and respiratory symptoms including coughing and shortness of breath. Generally, coronavirus can cause more severe symptoms in people with weakened immune systems, older people, and those with long term conditions like diabetes, cancer and chronic lung disease. You should treat symptoms as you would seasonal flu or a common cold, if you feel unwell and do not know what you should do, then call NHS 111.
After foreign travel what should you do?
If you have arrived back in the UK from Hubei or Wuhan Province (where the disease originated) you must:
• Stay indoors and avoid contact with others.
• You must also call the NHS 111 service to inform them of your recent travel to the area.
If you have arrived back to the UK within the last 14 days from other parts of China, Thailand, Japan, Republic of Korea, Hong Kong, Taiwan, Singapore, Malaysia or Macau and develop a cough, fever or shortness of breath, please immediately:
• Stay indoors and avoid contact with other people, just as you would do with the flu.
• Call NHS 111 to inform them of your recent travel and symptoms.
If you are returning from a country other than Hubei or Wuhan Province and aren't experiencing any symptoms then you can go about your day as normal.
To prevent the spread of the infection and protect yourself please follow this advice:
Always carry tissues and use them to catch coughs and sneezes, then bin the tissue.
Wash your hands with soap and water, or use sanitiser gel, to kill germs.
How do I know if I've been in contact with a case?
Public Health England will contact people who have had close contact with the confirmed cases.
Close contacts will be given health advice about symptoms and emergency contact details to use if they become unwell in the 14 days after contact with the confirmed case. This tried and tested method will ensure any risk to them and the wider public is minimised.
Where can I find more information?
For more information contact:
Jackie Wilson
Tel: 01296 383109
Email: jawilson@buckscc.gov.uk