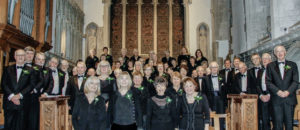 Great Missenden Choral Society
Festive Masterpieces: A

Christmas Concert
Saturday 18 December 2021

at

7.30pm
St. Peter and St. Paul, Great Missenden
Tickets £15, (students and children £7.50) are available from Wye County, 36B High Street, Great Missenden or via www.gmcsonline.co.uk
Great Missenden Choral Society are thrilled to be back andperforming a wonderful programme of music for Christmas. This will be their first concert performance led by new Music Director, Alex Flood.
GMCS, together with guest soloists and the St. John's Chamber Orchestra will perform three contrasting festive masterpieces. Haydn's beautiful St Nicholas Mass has an unusual 'pastoral' character, reflecting the mood of expectation, wonder and joy felt by the shepherds around Bethlehem at the first Christmas. Vigorous dance-like rhythms animate Vivaldi's Magnificat – Mary's song of humility and rejoicing at the news the angel Gabriel brings her. The concert ends with a perennial favourite, the Fantasia on Christmas Carols by Ralph Vaughan Williams, in which we hear familiar words and music woven together into an evocative tapestry of seasonal good cheer!
Are you a keen singer and free on Monday evenings?
GMCS is a friendly choir of around seventy keen amateur choral singers. They rehearse on Monday evenings in the Autumn and Spring terms for concerts in December and April. Their repertoire includes a wide range of classic and contemporary choral works. You are warmly invited to come and listen in at one of their rehearsals on Mondays at 7.45pm in the Oldham Hall, Church Street, Great Missenden. Doplease call or email anyone on their www.gmcsonline.co.uk/contact-us/ page beforehand. GMCS welcomes singers of all ages and has some bursaries available for young singers between the ages of 16 and 25, to cover membership fees.
For more information about the choir, its history and opportunities to join as a singer or a Friend, go to  www.gmcsonline.co.uk