VE Day at Austenmead
Double Celebration at Chalfont St. Peter retirement home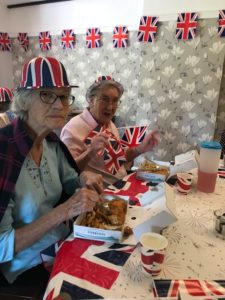 Residents at Austenmead, an independent living home for the elderly on School Lane in Chalfont St. Peter, had two reasons to celebrate on Friday 8th May.  Decked to the rafters with Union Jack bunting, the eight residents celebrated not only the anniversary of the end to the war in Europe, but also that three of the staff at the home, House Managers Lesley Wilcock and Beverley Green, and assistant Mimi Zabarcencu have been locked down with them since the lockdown began in mid-March and, as a result, all staff and residents are still safe and well.

The residents at the home, which has eleven rooms in total, have their own self-contained apartments along with a communal dining room and lounge where home-cooked meals and entertainment are provided all year round.  One House Manager is always on site anyway, but although the residents are relatively fit and well, Lesley and Beverley did not hesitate to offer to stay in complete lockdown with them for the three-month period suggested by the government for the vulnerable, in order to reduce the risk of bringing the virus into the home.
In order to try and make up for the absence of visits from loved ones, a laptop was bought for the residents to be able to stay in touch and although the usual external entertainers have been unable to visit, the activities have just become more inventive, including gala dinners, with everyone dressing up in their finery, growing the houses own fruit and vegetables using the greenhouse and raised plant beds, quizzes, karaoke and of course the usual bingo, film nights, arts and crafts and puzzle solving!  The residents have also been able to benefit from daily walks in the beautiful grounds and being able to sun themselves on the lounge terrace!
Bob Forster, Chair of the team of volunteer trustees who oversee the running of the home, expressed his admiration for both the staff who have devoted themselves to the residents in this way, as well as the residents for banding together to get each other through these unprecedented times.
The house has also been well cared for within the community with local people dropping off (on the bench outside the house) gifts for the staff and residents often without knowing even who has done it, and so everyone at the home would like to say a big 'THANK YOU' to each and every one of them.
Asked what the staff are most looking forward to in the future, they replied that they can't wait to welcome new residents, with one currently waiting to move in when restrictions are lifted, and also to move on with the refurbishment of the home, which is currently on hold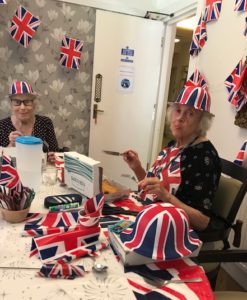 due to the crisis, which includes modernisation of all en-suites and redecoration of communal areas.
For more information on Austenmead please visit their website: www.austenmead.org.uk